| | |
| --- | --- |
| | Go to www.cosway.com.my, or log on via the unique URL link shared to you by your sponsor (example: www.cosway.com.my/my/S123456). The S123456 at the back of the URL is a member ID sample. Then, click Join Us at the top right corner of our website. |
Step 1: Fill out the form to register as Member.

Fill out the registration form from step 1 – 5. If you access the website with your sponsor's URL link, your sponsor's member ID will automatically appear at the Sponsor ID field.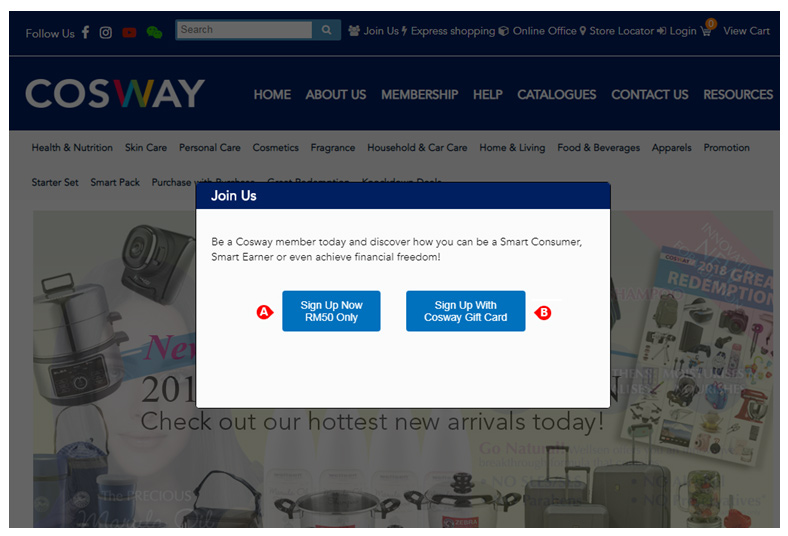 Fill in the Applicant Information.




Your next renewal date will be based on your birth month; please ensure you key in the correct information.




Your new Cosway Member ID and password and any correspondence about your account will go to this email address; please ensure you key in the correct information.




The company will send out updates via email from time to time. Checking the box below will enable you to receive news and updates from Cosway. If you prefer not to receive any messages, please uncheck the box below.




Set your password. This password will be required when logging in to your Online Office and Online Store.




Check the box if you have read, understand and agree to abide by the Cosway Membership Terms & Conditions.



Step 2: Collect your Starter Kit.
Once the registration is done, you may collect your FREE Starter Kit from any Cosway Sales Center.

Step 3: Confirm payment via Visa/ Master Credit Card, Debit Card or FPX.

Step 4: Print Tax Invoice

Check the box if it follows the profile information. Otherwise, fill in new information if the tax invoice is different from the profile details.  Then, print the tax invoice.

Step 5:

Check and confirm the correct total amount to pay and then click Submit to proceed.

Once submitted, a system alert message will pop up like the following.

Please ensure that your browser's pop-up blocker is turned off. DO NOT press "F5", click "REFRESH", "BACK" or "STOP" buttons during the payment process. DO NOT close any browser window until confirmation screen is displayed.

Step 6: Payment

Payment gateway page

Credit / Debit card




Other online payment methods





If payment is successful, you will be directed to the online Registration Tax Invoice page. Please print it for record keeping. You will also receive a confirmation email.